On September 15, 2013, Coach and Teacher Bob Lennon was killed by a hit and run driver while cycling in Westerville. In an effort to commemorate the life of such a dedicated man, the Lennon Loop was born.
We run to build a scholarship worthy of his life's work and his love and commitment to students and athletes.
BOB'S LIFE'S WORK
Bob was a 1967 graduate of Bishop Watterson High School and a graduate of The Ohio State University. Bob began teaching in the Diocese of Columbus in 1972. In his 42 year teaching career, 40 of those years were spent at St. Francis DeSales High School. During this time period, Bob taught in the Science Department and coached a number of athletic teams. His coaching career included 39 years as Head Cross Country Coach, 35 years as Assistant Track & Field Coach, 6 years as Head Boys Basketball Coach, and 3 years as Assistant Girls Basketball Coach. Coaching accomplishments included 9 Team League Championships; 3 Team District Championships; and he coached 7 Individual All-Ohio place winners.
Contribute to The Bob Lennon
Memorial Scholarship
previous Scholarship Winners
I spent many hot summer runs around the "loop" at Sharon Woods Metro Park and even more tiring speed workouts after school during the competitive season hearing Coach Lennon assure me that everyone was running in the "same conditions." I didn't realize the impact this short, but meaningful time spent with Mr. Lennon would have on me until he was gone. Fortunately, the Lennon Loop 5k/10k Race and the Bob Lennon Memorial Scholarship fund have been established to commemorate Mr. Lennon's legacy as a coach, teacher, and friend in the DeSales community. Thank you to all the participants, donors, and organizers involved in the Lennon Loop Race for helping families of students like myself with the financial burden of tuition that allows us to receive the rewarding education provided at DeSales, and most notably, helping keep Mr. Lennon's memory intact.
My name is Morgan Rowan and I am the first recipient of the annual Bob Lennon Memorial Scholarship at St. Francis de Sales High School. I live in Columbus, Ohio with my sister, Ryenne, and my parents, Charles and Jacqueline Rowan. I attended Ecole Française and St. Anthony Elementary Schools. During my time at DeSales, I have become active in the French Club, Student Ambassadors, the National Honor Society, and the girls cross country team. I hope to become a child psychologist and author after studying Psychology and Writing at a private university in Ohio.
As a freshmen member of the cross country team the year of Mr. Lennon's tragic accident, I was the last class of runners to have him as a coach.
EMILY KRAKER
My name is Emily Kraker and I am a junior at DeSales. I am the second daughter of Molly and Phil Kraker. I have an older sister, Mackenzie, who is a freshmen at Notre Dame, a younger sister, Ashley, who is a freshman at Desales, and a younger brother, John, who is homeschooled and in fourth grade. I was also homeschooled until my freshman year of high school. I play basketball and lacrosse for Desales, as well as travel lacrosse for Lucky Lax. I am the Vice President of Stallions for Life, a member of Student Ambassadors, Math Club, and Junior Classical League (Latin Club). I also attend Veritas Youth Group at St. Patrick's. I hope to play lacrosse in college and to pursue a career in nursing.
I feel so honored to be awarded the Bob Lennon Memorial Scholarship. Although I never had Mr. Lennon as a teacher I know that he was a wonderful influence to everyone around him.
I share Mr. Lennon's love of science and sports. He truly cared about his work and shared his passion with others. I am so blessed to be able to share in his legacy and strive to follow in his footsteps.
LOGAN WEITHMAN
My name is Logan Weithman, and I am the oldest son of John and Missy Weithman. I have a younger brother Adam, who is eleven years old. I attended St. Paul school kindergarten through eighth grade. I am a member of National Honors Society, and I also run cross country and play baseball for DeSales. I also participated in basketball my freshman and sophomore years, and I now help coach my brother's team at St. Paul. I am an active member of the Lennon Loop committee, as well as being involved in the Student Ambassadors program at DeSales. I have also been an altar server at St. Paul for the last seven years. In the future I hope to attend college with the hopes of getting my undergraduate degree in Athletic Training, and then getting my graduate degree in physical therapy. Once I graduate from college, I hope to become a physical therapist working with athletic related injuries.
It is an honor to receive the Lennon Loop scholarship, and it is especially satisfying to be awarded with this scholarship because of the impact that Mr. Lennon had on the St. Francis DeSales community, and me.
I knew Mr. Lennon because he was my cross country coach for part of my sophomore year. I did not run my freshman year, but after talking to some runners, and even Mr. Lennon himself, I was on board.
I started coming to practice that summer and really liked the sport. I have been on the varsity team the past two years, and will hope to continuing my running in college as a hobby. Mr. Lennon was a great coach and it was great to be a part of the legacy that Mr. Lennon had built coaching cross country. He had coached so many runners and it was really awesome to be a part of that group. My parents always tell me about the last race that Mr. Lennon was at. They talked to him a lot that day, and he kept saying how excited he was for our class (2016) of runners. He believed that we had great potential and that we could be really good runners when we got older. Sadly he is not here to see us run now, but I know that if he was, he would be proud.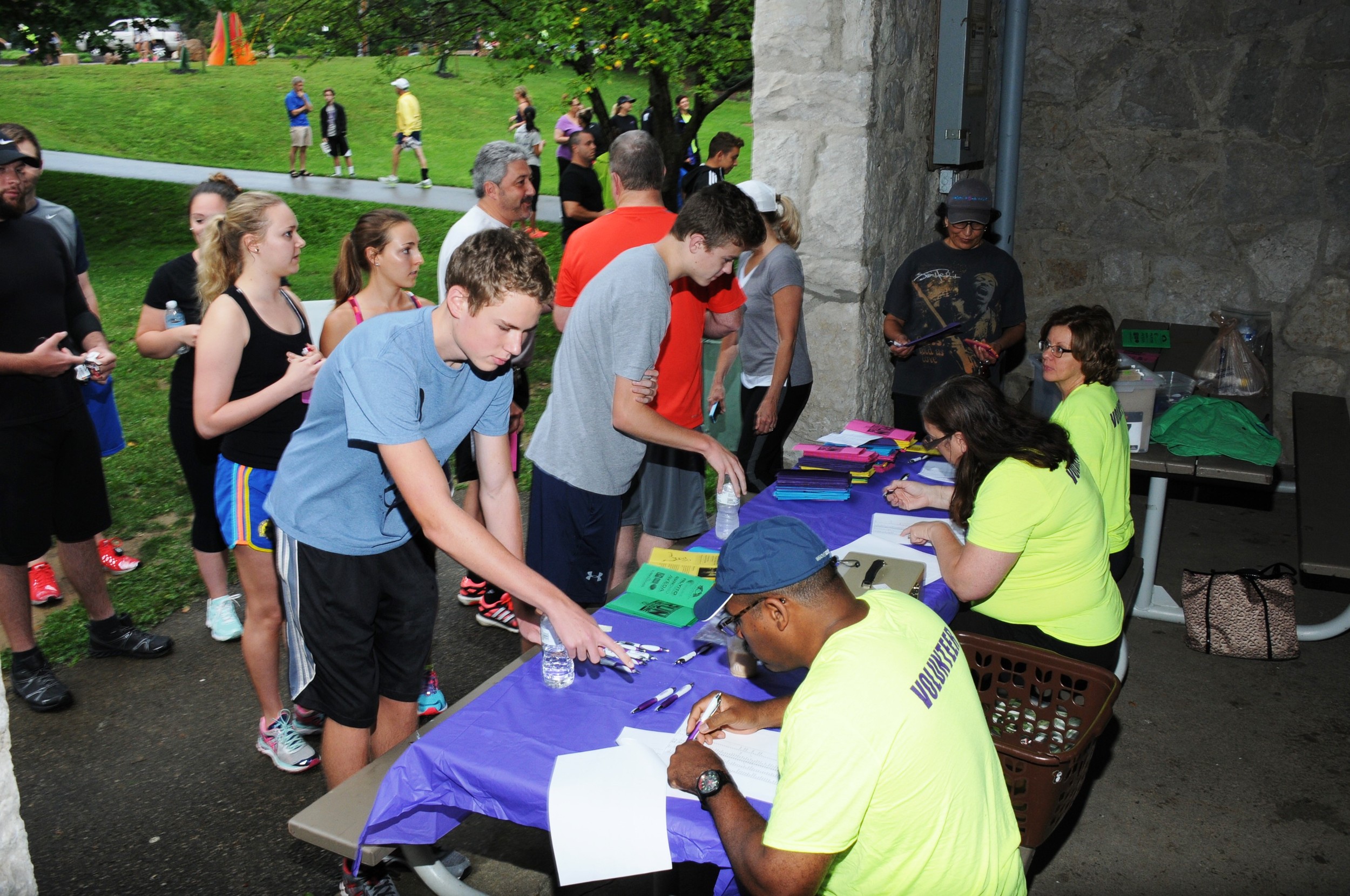 SHARE A MEMORY
In the days following Bob's death, our family met so many of his friends, students, and colleagues. The impact of your stories during one of the most emotional weeks of our lives cannot be understated. At the funeral home alumni runners and parents told us stories of holding onto the doors of the orange volkswagon bus so they wouldn't fall off while driving to get to the next meet!
One of the long time cafeteria workers shared that Bob came every day and got a cookie and on his way out said he left the money on the counter. Of course he never did leave money and the sheer amount of cookies stolen from the cafeteria are still unaccounted for!
The stories went on and on and we found ourselves laughing so much during the 2 days of goodbyes. You gave us a much needed reprieve from a sorrow I can't even define. Our family would have stayed a week to hear all of your stories and are asking again for you to share them. If you have a picture we will post that as well.
From the Lennon family to Bob's DeSales family, from the bottom of our hearts, WE THANK YOU!
Special thanks to our generous partners: